As the pandemic ebbs in the United States, many travelers have favored outdoor, away-from-it-all getaways. According to the travel planning site TripIt, major cities like Washington, D.C., and New York were trending down over Memorial Day weekend, while outdoorsy spots like Palm Springs, Calif., were newly popular. "Two-thirds of my clients are booking houses, ranch stays, and hotels in smaller coastal communities," said Shawna Owen, the owner of Huffman Travel, part of the Virtuoso Network. But as residents of big cities know, their hometowns are roaring back to life. Take Chicago's Loop neighborhood. It was a ghost town at the height of the pandemic.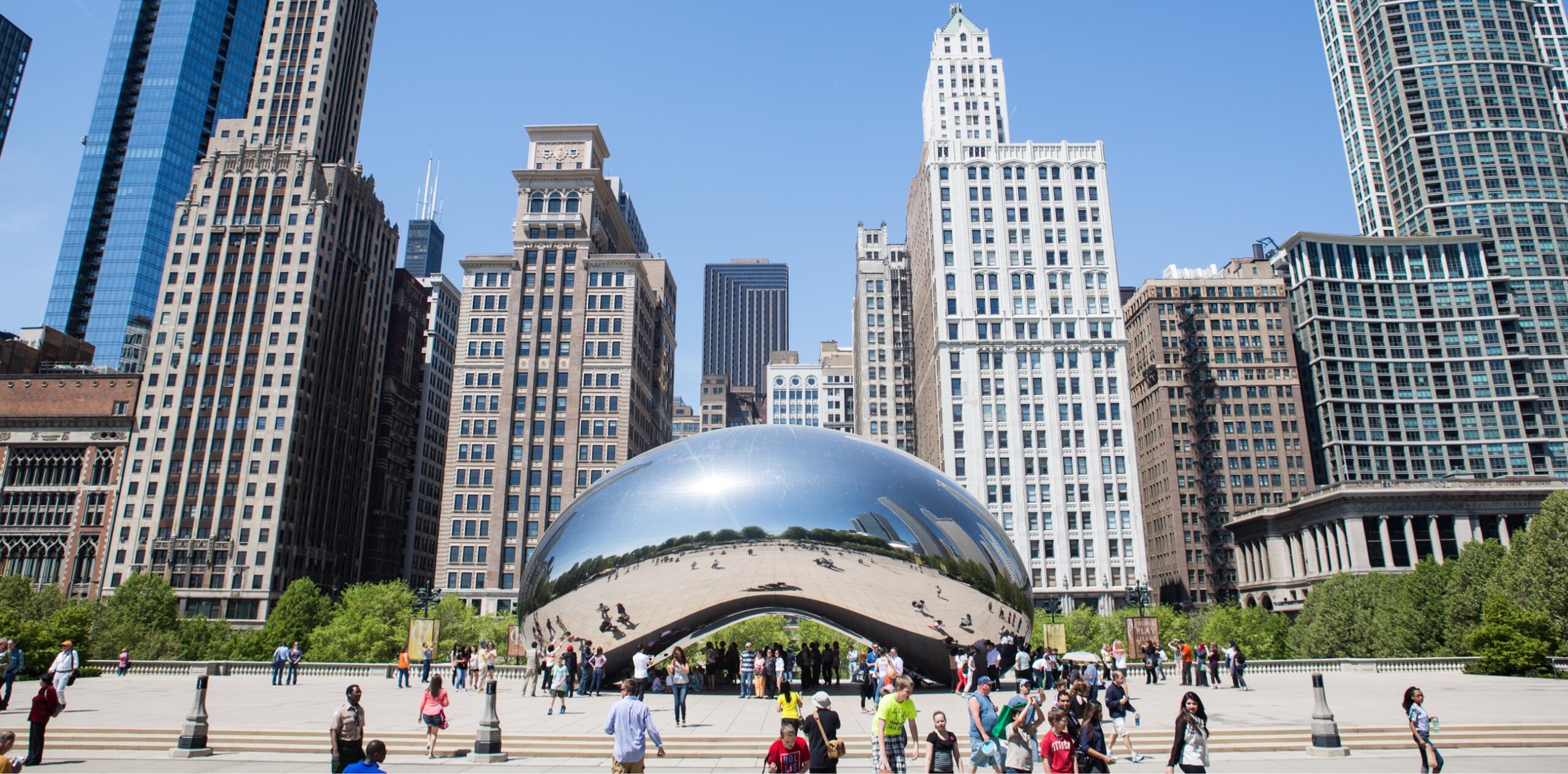 The area south of the Chicago River, known for its architecture and art-infused green spaces like Millennium Park, is abuzz with new hotels, restaurants, and performances at Grant Park, which have returned after a pandemic hiatus. The nearby West Loop, an industrial quadrant that runs on the west side of the Chicago River, has been flourishing since pioneering chefs like Stephanie Izard (Girl and The Goat), Sarah Gruenberg (Monteverde), and Paul Kahan (The Publican) opened restaurants there about 15 years ago. New hot spots emerged during the pandemic, including a groovy boîte modeled after an old-school Chicago "slushie" (a hybrid liquor store and bar). All of this, plus a star-studded lineup for Lollapalooza in late July, signals what could be the tail end of the city's Covid-19 cultural drought.
The Loop
The Carbide & Carbon building has been turning heads on Michigan Avenue since 1929, its polished black granite and green-and-gold terra-cotta a testament to Art Deco bravado. It was reborn as the Pendry Chicago Hotel in May, embracing the grandeur while incorporating contemporary conviviality into the 364 rooms and public spaces. Of particular interest: the 24th-floor terrace, which has never been open to the public. Called Château Carbide for the summer season, the deck's striped lounge chairs, rattan lanterns, palm trees, and fragrant rosemary bushes aim to channel Provence's Côte d'Azur. From this perch, guests have a unique perspective of the skyline and the top of the Carbide & Carbon Building, which resembles a glittering champagne bottle. There will be a rosé-focused wine list, charcuterie, and French house music in keeping with the theme. Reservations are recommended (230 North Michigan Avenue; 312-777-9000).
The Grant Park Music Festival is back after taking 2020 off, with 21 concerts at the Frank Gehry-designed bandshell at the Jay Pritzker Pavilion in Millennium Park. On tap as part of the 80-year-old classical music festival: the Grieg Piano Concerto, the "New World Symphony," the "William Tell Overture," and loads of Dvorak, Beethoven, Brahms, and Haydn. Other Millennium Park events include a performance of "Goshen" by Deeply Rooted Dance Theater, featuring the gospel singer Le'Andria Johnson and, as part of American Ballet Theater's ABT Across America, a production of Jessica Lang's "Let Me Sing Forever," set to the music of Tony Bennett; and "Indestructible Light," a new piece choreographed by Darrell Grand Moultrie, featuring music by Duke Ellington, Count Basie, and Billy Strayhorn. The series continues through Aug. 21, with concerts every Wednesday, Friday, and Saturday. Accessible open seating is available in the Seating Bowl and on the Great Lawn. Reserved seating is $25.
Throughout the summer, a portion of State Street, the Loop's main drag, from Lake to Madison, will close to traffic for a multi-block pop-up called Sundays on State. On tap: D.J. sessions with Soulphonetics, creative movement classes by Ballet Chicago, live mural painting, karaoke-style Broadway singalongs by Porchlight Music Theater, and a lounge by Southside Jazz Coalition where you can listen to vinyl. There will also be recreation (yoga, ballet, self-defense classes), dining, and retail vendors on site. Events run from July 11 to Sep. 12, with no events scheduled on Aug. 1 or 15; free.
The West Loop, Fulton Market
Earning three Michelin stars for four consecutive years, chef Curtis Duffy cemented Chicago's gastronomic epicenter. The city mourned the loss when his restaurant, Grace, abruptly closed in 2017. Mr. Duffy and his longtime business partner, Michael Muser, are back with Ever, where a 10-course tasting experience unfolds in a space as wildly innovative as the menu. Diners traverse a curved walkway with walls intricately layered in plaster (Moab Slot Canyon? Mars?) to a nook for amuse-bouche bites beneath dry ingredients dangling, Calder-esque, from the ceiling. The dining room — just 14 tables — is a soundproofed, windowless cocoon that appears to glow as soft lighting bounces from plates to the solid white ash-slatted screens that divide the room. Dishes, like a grand mound of black truffles perched upon popcorn-spiked, corn-husk-oil-kissed corn custard, are so poetic and visually arresting that eating them feels untoward. But eat them; you will. Adding to the wow factor, the restaurant opened mid-pandemic and earned two Michelin stars. A 10-course tasting menu is $285 per person. Wine pairings, $185 per person, nonalcoholic pairings, $105 (1340 West Fulton Street).
Before the pandemic, the Chicago-based fashion designer Maria Pinto, frequently dressed Michelle Obama, set up shop in a hulking black box steps from Fulton Market. Ms. Pinto's sculptural, seasonless garments are set off by polished black concrete floors and a two-story steel-and-glass-paneled wall that floods the room in light. An interior courtyard blooms with prairie grass and colorful anthropomorphic sculptures by the local artist Nathan Mason. If they are lucky, shoppers can meet Ms. Pinto and score a tour of her on-site design studio. Prices range from $125 for a top to $350 for a dress or wrap to $750 for a jacket (M2057 by Maria Pinto, 210 North Morgan Street; 888-868-2057).
At his debut restaurant, Rose Mary, the "Top Chef" winner Joe Flamm channels the lively, local spirit of family-run Croatian taverns or konobas. Flavor-packed dishes like citrusy coal-roasted beets with pistachios, honey, and kaymak (a thick cheese); beef burek; puffed pastry stuffed with onions and mozzarella; roasted clams with smoked ramp butter and bread crumbs; and gnocchi with pasticada (beef cheeks seared in bacon fat and slow-cooked with prunes and figs) pair perfectly with a wine and beer list also sourced from the region. The whitewashed walls accented with brick, red clay, and deep blue tile evoke the Adriatic's rustic beauty. Coming soon: a chef's table experience with a bird's-eye view of the open kitchen. Entrees start at $17 (932 West Fulton Street, 872-260-3921).
Smyth has always been a bit of an outlier. The cozy ambiance — exposed brick, rough-hewed wood rafters, cozy rugs, simple wooden furniture, and a classic rock playlist — is matched by emphatically pretense-free service. These, plus whiz-bang flavors that are high-concept yet enticingly familiar, have earned the restaurant a cult following and, not surprisingly, two Michelin stars. The chefs and owners, John and Karen Shields, are celebrated for their commitment to small producers and specialized farmers like Mike Murphy, the Shields' source for dragon's head, Vietnamese cilantro, lemon leaf, and other esoteric herbs grown exclusively for Smyth. Not all vendors are Midwestern. An agricultural cooperative in Valley Center, Calif., San Gabriel Ranch, provides the exotic produce for an avocado dish seasoned with cured citrus, eucalyptus oil, finger limes, and a tangy paste of Bangkok guava with gelato texture. A new relationship with Monterey Bay Seaweed has ratcheted up fresh ocean flavors in seafood and found its way into a wasabi-scented foie gras dish swimming in a broth of guinea hen. A 16-course tasting menu is $240; wine pairings start at $125 (177 North Ada Street, #101; 773-913-3773).
Madison Street Corridor
Juice @1340, an easy walk south of Fulton Market, is not your typical wine shop. First, it's what Chicagoans call a "slushie," where you can drop in for a drink and take home a bottle or a six-pack. It's also run by a triumvirate of cool kids with pedigrees from some of Chicago's most popular restaurants. The bartender, Danielle Lewis, spearheads the beer arm, focusing on niche breweries, including local outfits like Hop Butcher, Marz, and Pipeworks. Tim Williams, a cocktail impresario, crafts riffs on classics. The sommelier Derrick Westbrook shines a spotlight on lesser-known wines or wine options like Austrian Evolúció Blaufränkisch and Black-owned vineyards like Brown Estate Vineyards, Theopolis Vineyards, Michael Lavelle, and Maison Noir Wines. Events will be a focal point: think pop-ups for emerging culinary talent and a beverage version of a Chef's Table called Fresh Pressed. Cocktails and wine by the glass are $10 to $14; bottles of wine are $200; Fresh Pressed events cost $100 per ticket (1340 West Madison Street). Follow New York Times Travel on Instagram, Twitter, and Facebook. Check out our 52 Places list for 2021. Sign up for our weekly Travel Dispatch newsletter to receive expert tips on traveling smarter, inspiration for your next vacation, and dreaming up a future getaway or just armchair traveling.