President Biden gave Russian President Vladimir Putin a list of critical U.S. infrastructure systems that should be off-limits for ransomware and cyber-attacks Wednesday. After their summit, he said Russia is "desperate" to remain a significant world power. Emerging from nearly three hours of talks with Mr. Putin in Geneva, Mr. Biden said he told the Russian leader that as many as 16 U.S. sectors, from energy grids to water systems, must remain free from the type of cyberattacks that disrupted a U.S. gas pipeline and a major meat producer in recent months. Both attacks were blamed on hackers harbored by Russia.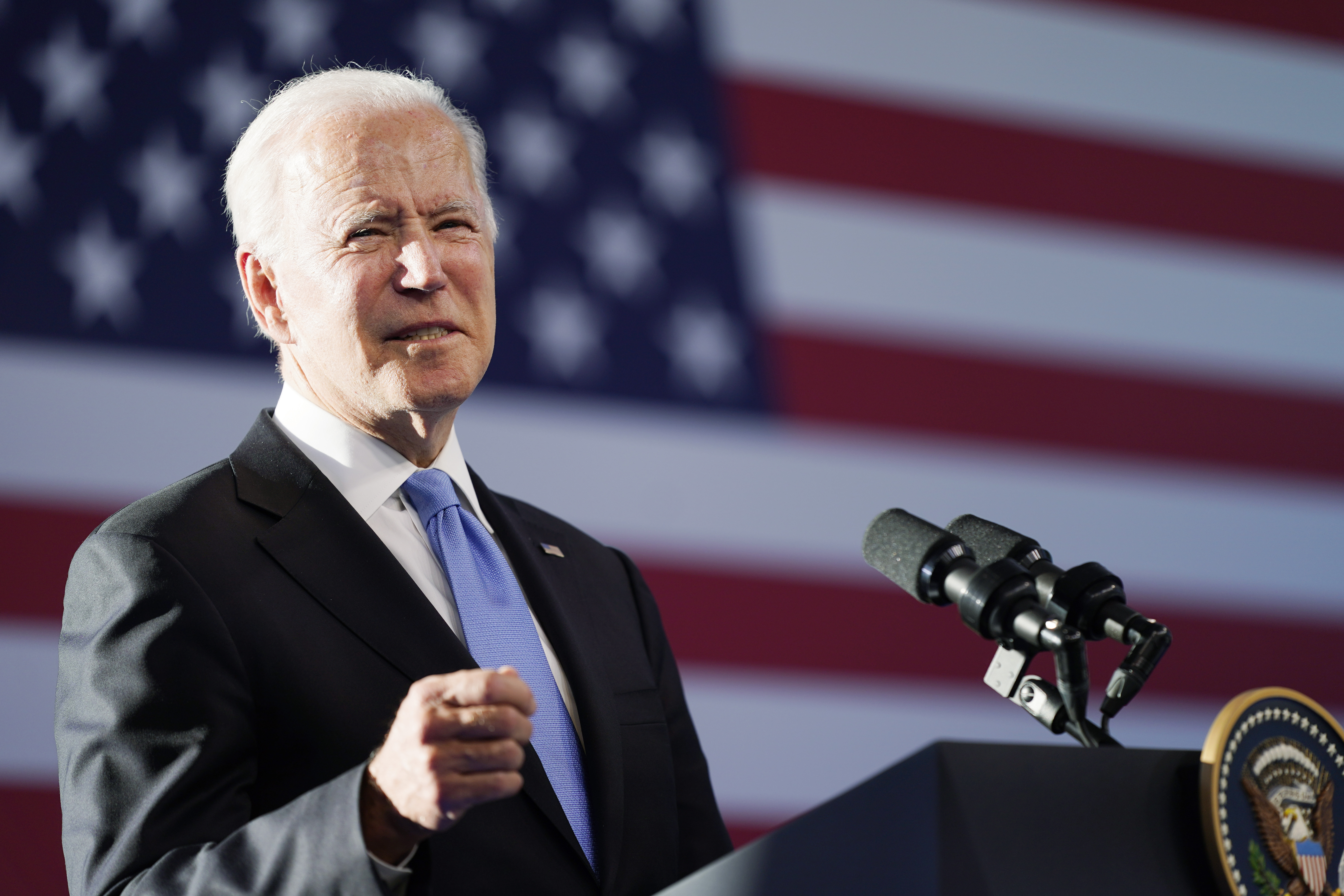 The president also warned Mr. Putin that the U.S. has "significant cyber capability" to respond to future attacks. He said Mr. Putin knows the U.S. will fight back next time. "We made it clear we were not going to allow this to go on," the president said. "I gave them a list. … There were no threats, just simple assertions made. I think the last thing he wants now is a Cold War." Mr. Putin denied that Russia was involved in any cyberattacks. He insisted at his press conference that the attacks originated in North and South America and said, "Russia isn't on the list."
The highly anticipated summit wrapped up a week of meetings for Mr. Biden with European leaders and heads of the Group of Seven wealthiest democracies on the president's first trip overseas. "I feel good about it," Mr. Biden said before boarding Air Force One in Switzerland for his return to Washington late Wednesday night. "I did what I came to do. The tone of the entire meeting … was good, positive." Mr. Putin called the president "balanced" and "professional." He said the meetings were "productive" and "aimed at achieving results."
Whether Mr. Biden made any real progress with Russia, he acknowledged, remains to be seen. He told reporters, "There's a value for being realistic and putting on an optimistic front, an optimistic face." The top Republicans on the House and Senate foreign policy committees faulted Mr. Biden for not being forceful enough. They called on him to immediately slap sanctions on Russia for the poisoning of opposition leader Alexei Navalny last year, who is now jailed in a penal colony about 120 miles east of Moscow. The United Kingdom and European Union previously imposed sanctions on Russia for the poisoning that, in addition to potentially being attempted murder, violates an international ban on chemical weapons.
"Along with waiving critical sanctions on the Nord Stream 2 pipeline and your administration's muted response to Russia's role in a series of recent significant cyberattacks on the United States, this delay, in contravention of U.S. law, serves as yet another unreciprocated concession that projects weakness," Sen. James Risch of Idaho and Rep. Michael McCaul of Texas wrote in a letter to Mr. Biden. Mr. Biden and Mr. Putin went into the summit believing that U.S.-Russia relations were low. Moscow has interfered in two U.S. presidential elections, jailed and allegedly poisoned Russian opposition leaders, launched cyberattacks against U.S. government agencies, and threatened Ukraine militarily.
With a few top advisers present for the talks in Geneva, the two leaders agreed to return their respective ambassadors to their posts, set up a joint group of experts to specify what targets are off-limits for cyberattacks, and start discussions aimed at possible arms reduction. Senate Foreign Relations Committee Chairman Bob Menendez, New Jersey Democrat, said Americans "sighed in relief" after four years of questioning former President Trump's approach to Moscow. "This was a necessary reality check for Putin and a welcome departure from the past four years of Trump's coddling of the Kremlin," Mr. Menendez said. "The onus is now on Vladimir Putin to shift course on a host of malign activities in Ukraine and Syria as well as cyberattacks against the U.S., and human rights abuses at home."
But on a range of friction points, a defiant Mr. Putin denied any destabilizing actions and accused the U.S. of hypocrisy. He deflected accusations of suppressing his political opponents by repeatedly citing the pro-Trump riot at the U.S. Capitol on Jan. 6, gun violence, and destructive Black Lives Matter protests as evidence of weak U.S. leadership domestically. "People went into U.S. Congress with political demands," Mr. Putin said. "Four hundred people are now facing criminal charges. They are facing prison terms of up to 20, maybe 25 years. They are called 'homegrown terrorists.' One of the participants, a woman [Trump supporter Ashli Babbitt], was shot dead on the spot. She was not threatening. We sympathize with the United States but do not want the same thing repeating here."
He also pointed to the murder of George Floyd by a police officer and the ensuing violent protests that swept across the U.S. last year. "America quite recently had to deal with terrible events after the murder of or the killing of the African American, and Black Lives Matter ensued," he said. "We saw mass violations of the law. We do not wish to see this kind of thing could happen on our territory, and we will do our utmost to prevent it." Mr. Biden called Mr. Putin's analogy of the Capitol riot to the jailing of Mr. Navalny "a ridiculous comparison."
"It is one thing for literally criminals to break through the cordoned window of the Capitol, kill a police officer, and be held unaccountable than it is for people objecting and marching on the Capitol saying you are not allowing me to speak freely, you are not allowing me to do A, B, C, or D," Mr. Biden said. Mr. Biden's claim that Capitol rioters killed a police officer, Brian Sicknick, was disputed by the D.C. Medical Examiner, who ruled he died of two strokes from natural causes. Two men have been charged with assaulting him with a chemical spray. Mr. Biden's post-summit evaluation is that Russia "is in a very difficult spot."
"China is squeezing them," the president said. "They want desperately to remain a major power. They desperately want to be relevant. It matters to every world leader how they're perceived. It matters to them for their support at home, as well." On arms control, Mr. Biden and Mr. Putin made a joint statement agreeing to hold talks. The New Strategic Arms Reduction Treaty is due to expire in 2026. "We reaffirm the principle that a nuclear war cannot be won and must never be fought," the two leaders said in a joint statement. "Consistent with these goals, the United States and Russia will embark together on an integrated bilateral Strategic Stability Dialogue shortly that will be deliberate and robust. Through this dialogue, we seek to lay the groundwork for future arms control and risk reduction measures."
Beatrice Fihn, executive director of the International Campaign to Abolish Nuclear Weapons, said the summit "fell short of making significant progress" on arms control. Mr. Biden said one test of his talks with Mr. Putin would be whether new cyberattacks hit the U.S. Other "off-limits" entities on Mr. Biden's broad list include healthcare facilities, manufacturing operations, emergency capabilities, chemical plants, nuclear facilities, communications networks, government, defense, food, commercial facilities, information technology, transportation, dams, and financial services. The list is a suggested starting point for negotiations, not a comprehensive tally of untouchable entities.
"It's going to be real easy. Are they going to act? We'll find out," Mr. Biden said. "I looked at him. I said, 'How would you feel if ransomware took on the pipelines from your oil fields?' He said, 'It would matter.' This is not about trust. This is about self-interest and verification of self-interest." The president also argued that the summit achieved his objective of laying out a baseline of expectations for Mr. Putin. "I told President Putin my agenda is not against Russia or anyone else. It's for the American people," Mr. Biden said. "I also told him that no president of the United States could keep faith with the American people if they did not speak out to defend our democratic values. I clarified that we would not tolerate attempts to violate our democratic sovereignty or destabilize our democratic elections, and we would respond.